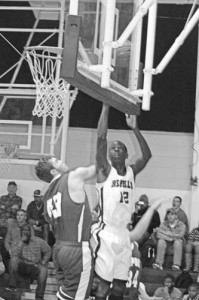 Strom Thurmond High School senior JaSergio Kennion has been selected to play in the 2013 CSRA Georgia vs South Carolina High School All-Star Basketball Classic.  JaSergio was selected from a group of top high school basketball players nominated by coaches and administrators.  The nominees are submitted to Augusta sports in Action for selection to play in the All-Star Basketball Game.
Strom Thurmond head Basketball Coach Leroy Rouse commented, "Sergio is a good team player, he's one of the hardest working young men I have ever coached… He is like a coach on the floor.  He is the type player you hate to see go, he will be truly missed.  Good luck JaSergio."
JaSergio is the son of Jackie and Gerald Kennion of Trenton and the grandson of Mildred and Odell Glover.
Young Mr. Kennion has been accepted by a number of universities and has chosen to attend Augusta State University this fall.