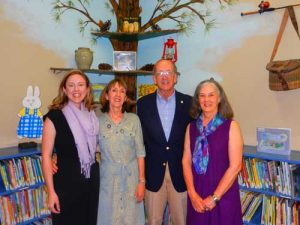 The Edgefield County Library held a ribbon cutting Thursday afternoon, Apr. 18, to officially dedicate and open the newly renovated children's area in memory of longtime library patron, Dorothy (Dot) Mims.
Sponsored by The Friends of the Library, a host of family and friends of the late Mrs. Mims was on hand to see her children, Lovick Mims, Kim Schroeder, and Sarah Mims, as well as grand-daughter, Courtney Mims, cut the red ribbon. Among the speakers of the day was Mary Jo Dawson, Director of the ABBE Library System.  Speaking of her years of working with Mrs. Mims and of Mrs. Mims' kind and loving spirit and her desire to see all children exposed to educational opportunities, Ms. Dawson said, "I can't think of a better way to honor her."
The renovations to the children's area include a painted tree in the corner whose trunk serves as shelving, a painted lake with canoes, Adirondack chairs, and a checkers table.  Hanging on the wall over a low shelf of children's books is a life preserver bearing the name of Dorothy Mims.  A fitting tribute, as one attendee noted, as Mrs. Mims was regarded by many as a life saver to the library.  The camping theme of the new children's area was also chosen as a way to honor Mrs. Mims and her love for Camp Gravatt, an Episcopal camp in Aiken, SC.  Mrs. Mims had requested that donations in her memory be made to the camp.
Before heading into the library's conference room to enjoy an array of sweets, Mr. Mims spoke of his appreciation for the dedication to his mother.  In an emotional thank you, he spoke of how one always thinks their parents are wonderful, but it is truly great when one can know the community thinks so as well.  This loving tribute will know doubt stand to remind countless young people for many years to come of the spirit of Dorothy Mims.