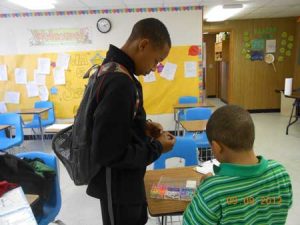 Instead of playing video games or hanging out with friends every day, Jamal & Keyshawn Stevens chose to spend time twice a week volunteering at Edgefield County Youth Empowerment Center' s After School "Matters" Program.  "We are captivated and inspired by these young men outstanding and selfless acts of kindness, says, Marcella Edwards, CEO of Edgefield County Youth Empowerment Center.
Both students spend several hours assisting 5k-4th graders with their homework and engaging them in recreational activities.
When asked, why do they give their time? Keyshawn replied, "It feels good helping others". Like many young men their age, Jamal and Keyshawn have high hopes for their future. Both students are very intellectual and athletic; with desires to go to college.
"I think students should be encouraged to volunteer for not only the experience and character building, but also for applying for colleges. The admission levels for universities are becoming more competitive.  One major tool that has been helpful to setting themselves apart from most of their peers is their volunteering services", says, Edwards. "It is my belief that we are at our best when we are giving and everyone has something to give."