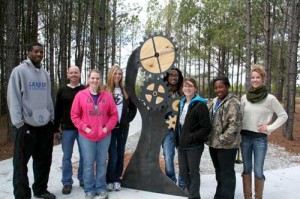 GREENWOOD, S.C. — Students in Lander University assistant professor of art Doug McAbee's advanced sculpture class recently installed seven "sensory sculptures" along the therapeutic riding trail behind the Burton Center.
The idea is that visitors to the newly created trail will interact with 'sensory stations' while on the trail, according to McAbee, adding that the sculptures are designed to stimulate one or more of the senses.
"Many of the sculptures have lower parts designed for wheelchair visitors and walkers, and higher parts designed to interact with horse riders. All work to stimulate the eyes and some feature sound, movement and tactile parts," he said.
Beth Wood, therapeutic riding program coordinator for the Burton Center's next-door neighbor, the Lander Equestrian Center, was instrumental in designing the trail. Wood said, "The new sculptures on the sensory trail are not only beautiful to look at but add another dimension to the multisensory experience of the trail."