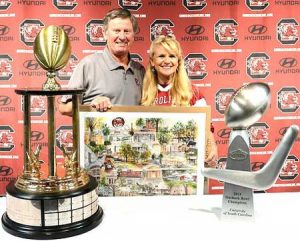 Local artist, Beth Robertson Clark of Edgefield presented one of her signed and numbered limited edition "University of South Carolina" prints to Head Coach Steve Spurrier on Sat., April 28, at "the  Zone" in Williams Brice Stadium. She also presented print No. 1 to James Coppenhaver, retired director of bands at USC. There are only 100 printed of this edition.
Beth created a painting of the famous "Hit" by Jadeveon Clowney and he signed it along with his mother and Steve Spurrier Jr.
Beth and her daughter Tracy Grandy attended the Ladies Clinic where they met the players, coaches, coaches families, players moms, learned various play, toured the locker rooms and ran through the smoke from the tunnel with 2001 playing!
Both prints are available for purchase.