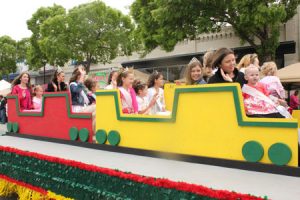 Although the weather Saturday, May 4, being unseasonably cold and windy with spotty showers of rain, was not ideal for outdoor activities, the Johnston Peach Blossom Festival carried on as planned.
The beauty queens sported their best smiles, the band played their up-beat tunes, and the horses held their tales high has they all made their way down the town's main street for the festival's parade. Performers at the festival's event stage also kept up their lively acts to entertain those who came to celebrate with the town.
While not as large a crowd as seen in year's past, the weather no doubt a factor, the town still put on a bright face to make the day a success.