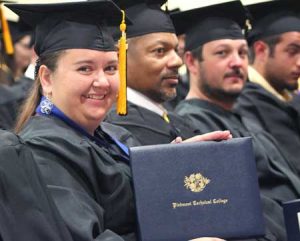 The James Medford Family Event Center at Piedmont Technical College was the setting for the culmination of many dreams for the more than 300 Piedmont Technical College graduates who took center stage in two commencement ceremonies.
Dr. Ray Brooks, president, welcomed graduates, family and guests to celebrate the accomplishments of the graduates.
"It is a delightful time to be with you tonight to celebrate this milestone," Brooks said. "I want to challenge you tonight to realize that even though you have graduated, you are commencing on a journey that will continue to require you to learn and do the things you need to do to be successful in your life."
Brooks was followed by the commencement speaker Michael Nix, Chief Operating Officer, Chief Financial Officer and Managing Director at Greenwood Capital Associates.
"I do not have any answers; I don't have a magic formula for success or answers to life's difficult questions," Nix said. "But I can share with you some thoughts that have guided me over the years and I hope you find some wisdom in the words and meanings in the acts."
Nix offered four pieces of advice. He encouraged graduates to remain lifelong learners, even if that meant asking questions every day. He said to embrace diversity of all kinds, including experience and ideas. He reminded them there will be successes and failures, but neither one should define them. Lastly, he said they must constantly remind themselves of why they became what they became. "I submit to you these four small items," he said. "Take these four ideas and make them a part of your journey."
Several graduates were recognized for highest academic achievement within their counties of residence.
The winners by their counties of residence and their majors were:  Abbeville: Bobby Suit, Associate in Science; and Sheila Weitkamp, veterinary technology; Edgefield: Mary Adams, administrative office technology; Greenwood:  Theodore Thomas, commercial art; and Brian Clark, industrial electronics technology and mechatronics; Laurens:  Julia Hale, electronic engineering technology; McCormick: Grant Willis, mechanical engineering technology; Newberry:  Bonnie Alger, computer technology; David Castro, criminal justice; and Corey Cook, criminal justice; and Saluda:  Suzanne Bird, administrative office technology.
Presenting this year's graduates was Andy Omundson, dean of student services. Certificates, diplomas and associate degrees were conferred by Brooks and Susan Timmons, vice president for educational affairs, with assistance from board chairman William Whitfield; Evelyn Beck, dean of Arts and Sciences; Jerry Alewine, dean of health science; Tara Harris, dean of nursing; Sissy Copeland, dean of business, information technologies and public service; and Rusty Denning, interim dean of engineering and industrial technologies.
The macebearer was Bradley Griggs, faculty senate president. The mace was designed by members of the faculty and staff and presented to the college in 1991 by PTC's Alumni Association. Music was provided by Emerald City Brass. Rev. Krystal Bryant, pastor at St. Paul AME Church in Hodges, delivered the invocation and benediction.
EDGEFIELD COUNTY
EDGEFIELD – Mavis J. Culbreath, associate in applied science, major in general technology, medical assisting concentration.
JOHNSTON – Ora D. Bryant, associate in applied science, major in administrative office technology, medical concentration; and Wallace F. Middleton, associate in applied science, major in criminal justice.
TRENTON – **Mary Y. Adams, associate in applied science, major in administrative office technology, accounting concentration.
***Summa Cum Laude-4.0      **Magna Cum Laude-3.75-3.99        *Cum Laude-3.5-3.74