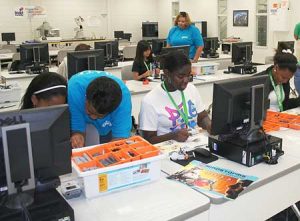 Young people looking for something different, fun and exciting to do this summer will find several options available on Piedmont Technical College's Greenwood campus. Two special career-oriented camps in automotive and engineering technology will be offered as well as a variety of interest-based camps.
The Automotive Technology Camp will be returning for its eighth year June 24-28. Students ages 12-15 will learn about the exciting automotive industry, get hands-on instruction from PTC's award-winning faculty and learn about career options in the field. During the camp, students will meet some of the automotive industry's finest, including representatives from GM, Ford, Chrysler, Toyota, Nissan and BMW and will experience exclusive tours of a NASCAR facility, the BMW plant in Greenville and area dealerships.
Also returning for its fifth year is the Girls Achieving in Technology and Engineering (GATE) summer program. The program will be held June 10-13 for rising 9th, 10th, 11th and 12th grade female students. The GATE summer program will feature challenging and structured hands-on activities. Students participating in the program will build and program robots, design and build prototype models and tour a manufacturing facility where they will have the opportunity to meet with professional women within the engineering technology professions. Participants will also have a chance to win a personal Dell laptop.
Other camps will be offered throughout the summer for every age group. For girls ages 5-7, Tiny Princess Camp will be June 10-13. For campers ages 8-16, a variety of choices are available including Ancient Art Camp June 17-20; Junior Dessert Designer Camp June 17-20; Digitech Camp June 17-21; Princess Camp June 24-27; Dessert Designer Camp July 8-11; Robotic Engineering Camp July 15-19; Junior Survival Camp July 22-25; and Fishing Fundamentals Camp July 29-August 1.
The registration deadline for the automotive camp and for the GATE program is May 31. Registration forms are available from school guidance counselors or by contacting Vickie Baldwin at (864) 941-8602. For more information on all of the camp opportunities and to register, go to www.ptc.edu/camps.