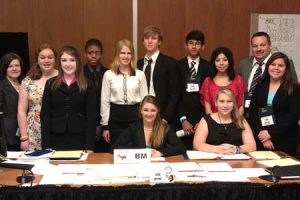 COLUMBIA, S.C. — The Strom Thurmond High School Mock Trial team represented South Carolina in the National Mock Trial competition May 9-11 in Indiana. The team's student attorney, Kaitlyn Pugh, was one of 10 students named "Most Effective Attorney" during the competition. Strom Thurmond placed third in the S.C. Bar High School Mock Trial State Competition in March.
Participating students included Brook Caldwell, Jacob Harding, Jamarr McCain, Clara Mutschler, Leticia Peňa, Arturo Pineda, Jackie Polz, Kaitlyn Pugh and Erin Sweeney. The teacher coaches were Denise Jackson and Jeffrey Bryan. The attorney coaches were Blair Massey and Sen. Shane Massey.
Strom Thurmond's scrimmage team was selected to fill a vacant spot at the national competition after assisting N. Myrtle Beach High School in its preparations by participating in a scrimmage.
The Hon. John M. Rucker (S.C. Family Court) was chosen to preside over the championship round of the national competition, marking the first time that a South Carolina judge has been asked to take on such a prestigious honor.
The school is planning fundraisers to help cover travel and competition related costs. For donations, contact Denise Jackson at djackson@edgefield.k12.sc.us.
The S.C. Bar Mock Trial Program is sponsored by the S.C. Bar's Law Related Education (LRE) Division, which was developed in 1976 to improve the ability of teachers to instruct law related education.
The Mock Trial Program is made possible through a S.C. Bar Foundation IOLTA grant and the S.C. Bar.
The South Carolina Bar, which has a membership of more than 14,000 lawyers, is dedicated to advancing justice, professionalism and understanding of the law.
—
Related:  Joseph Friar Named Middle School Teacher of the Year by S.C. Bar