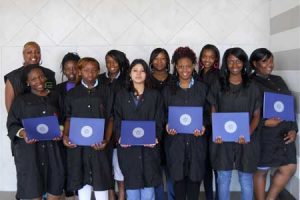 Eleven seniors traveled to Columbia, SC., on Tuesday March 19, 2013 to take their 4 ½ hour Practical Exam for their Cosmetology License; their Practical Exam consisted of 8 parts. Client Protection & Disinfectants, Thermal Curling Demonstration, Haircutting Demonstration of Haircutting and Safety and Infection Control of haircutting, Chemical Waving Demonstration, Virgin Hair Lightening Application and Hair Coloring Retouch Preparation, Virgin Relaxer Application and Relaxer Retouch Demonstration, Basic Facial Preparation and Safety and Infection Control, and last Manicure. The students had to show Demonstration of Filing, Cuticle Care, Hand Massage, and Application of Polish, Final Appearance of the Nails and Safety and Infection Control. They all passed.
They had to return to Columbia on April 22, to take their 2 hour Theory Exam which consists of Human Anatomy, Basic Principles of Chemistry, Trichology, Chemical Services, Infection Control, Basic Principles of Electricity, Basic Physiology, Haircutting and Principles of Hair Design.
We are proud to announce that ten passed and are now Licensed Cosmetologists.