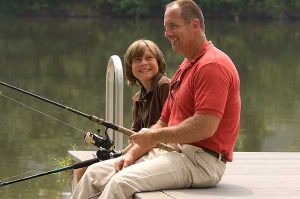 Have you ever felt the excitement of watching your bobber suddenly jiggle, then dive out of sight? Or feeling the tap-tap-tap of a bass as it tastes the worm on the end of your line? What's that? You say you never learned to fish? If you are new to the sport of fishing, and not sure if you will enjoy it, a great opportunity awaits you.
The South Carolina General Assembly designated July 4th as Free Fishing Day. All South Carolina residents may fish free in freshwater on July 4 without a recreational license. Also included in the bill was free fishing on Memorial Day. All fishing regulations, such as bag and size limits and gear restrictions remain in place during Free Fishing Days.
So you need some instruction to land the big one? The S.C. Department of Natural Resources (DNR) has a series of Family Fishing Clinics around the state. The clinics are an introductory class and will teach skills on how to tie fishing knots, how to rig a rod and reel, casting and more and the best part is everyone will get to try their hand at fishing. Participants will learn how and where to fish and have someone to fish with to become confident anglers.
Family Fishing Clinics are free of charge.
The clinics are sponsored by the DNR Aquatic Education Section and are designed to introduce the basics of fishing to the young and old or those who need a refresher to the basics of fishing to increase their future participation in the sport.
You can register online. For more information regarding an upcoming Family Fishing Clinic event or to host an event, please contact Lorianne Riggin, rigginl@dnr.sc.gov or (803) 737-8483.