The Foundation for Public Schools in Edgefield County invites everyone to become a permanent part of the new stadium project at Strom Thurmond High School. Joel Jolly, Chairman of the Foundation, suggests that the citizenry "fill the big T."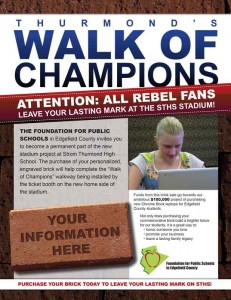 The big T is placed on the ground, in its special spot, at the STHS athletic field and as Rebel fans enter the gates they will walk on the T toward the bleachers. The "Walk of Champions" walkway is being installed by the ticket booth on the new home side of the stadium. It will be ready for the games this fall
To have a name placed on a brick commemorating whatever and whoever the purchaser so chooses, one has to make a donation of $100.00.  A brick will be removed and engraved for the purchaser and will be returned to its spot in the T where it will be there for posterity.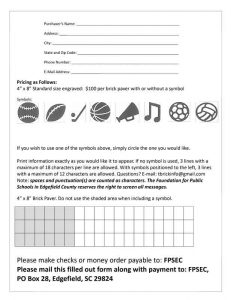 These $100.00 contributions toward the bricks will ultimately fund an important project for the schools: Chrome Book laptops will be purchased with this money for Edgefield County students – Merriwether Middle and JET Middle first, and STHS to follow.
Jolly says: "Not only does purchasing a commemorative brick build a brighter future for our students, it is a great way to honor someone, to promote a business, or leave a lasting family legacy. It is a way to leave your lasting mark at the STHS stadium."
To purchase a brick, click the link below to download the form. You will then need to print it and follow the instructions on the form.