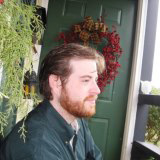 Contemporary Southern poetry will be the subject of a seminar at The Morris Museum of Art on Sunday, June 29 at 2-4 PM.  Sponsored by the Poetry Society of South Carolina, the Authors Club of Augusta, the Morris Museum of Art, and the Augusta Poetry Group, the seminar will feature poet and editor, William Wright.
William Wright is the author of five poetry collections, most recently Night Field Anecdote (Louisiana Literature Press, 2011) and Bledsoe (Texas Review Press, 2011). Wright has most recently published work in Shenandoah, Indiana Review, AGNI, North American Review, and others. He is founding editor of Town Creek Poetry.
Wright is series editor of The Southern Poetry Anthology, including volumes on South Carolina, Georgia, Louisiana, Appalachia, and Mississippi, so far.  These books will serve as resources at the seminar, and will be available for sale and signing afterwards.  Refreshments will be provided by the Augusta Poetry Group.
William Wright is the son of Philip Wright of Johnston and lived his "first 12 years on Wigfall Street in Edgefield."