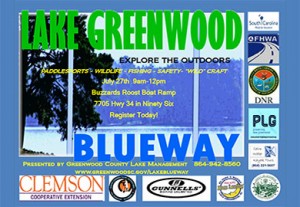 Paddlesports, wildlife facts, boating safety and other events will be available during the 'Come Explore the Outdoors" Blueway event on Lake Greenwood from 9 a.m. to noon Saturday, July 27 at Buzzards Roost Boat Ramp on SC 34 near Ninety Six. The event is free and open to the public.
For more information call (864) 942-8560. The event is presented by Greenwood County Lake Management, and among its other sponsors are the S.C. Department of Natural Resources (DNR) and Clemson Extension Service.
Buzzards Roost Boat Ramp will be closed July 27 except to registered participants.
A "Blueway" is a trail on water, and Greenwood County is emphasizing paddlesports during the July 27 Lake Greenwood event, which will feature different stations such as a standup paddling demonstration and kayak instruction and practice. Other features will include aquatic weed identification, DNR boating safety demonstrations, "wild" craft and more.
Other sponsors of the July 27 Blueway event on Lake Greenwood are Gunnell's Marine Unlimited, Preserving Lake Greenwood, Calm Water Kayak Tours, Earth Connection Outfitters and Moon Landing RV Park & Marina.