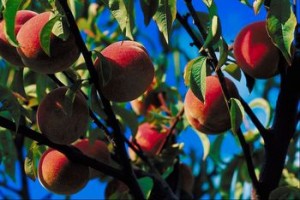 WEST COLUMBIA, S.C. – Summer celebrations continue at the State Farmers Market in West Columbia with Peach Day at the Market July 13 at 11 a.m. in the North Shed. Each guest will receive a free peach while supplies last! The South Carolina Department of Agriculture (SCDA) and the South Carolina Peach Council are hosting the event to celebrate the signature summertime fruit. South Carolina ranks second in the nation in peach production.
Peach Day guests are also invited to stop by the Market's Corbett Building for a Happy Birthday America event benefiting The Blue Star Mothers and Hidden Wounds from 10 a.m. to 4 p.m. The Blue Star Mothers will collect snack items and toiletries for deployed service members, and the American Legion Post 7 will collect American flags for retirement. There will be activities for kids, food tastings, and door prizes.
Throughout the summer, SCDA hosts a series of Summer Celebrations featuring local produce and products at the State Farmers Market to encourage more people to shop local and support local agriculture.
The South Carolina State Farmers Market is located at 3483 Charleston Highway, West Columbia, S.C., 29172 and is open year-round. For market hours, a map, and other information, visit, http://agriculture.sc.gov