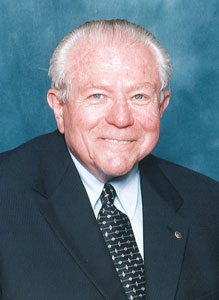 NEWBERRY, S.C. – Raymond Kiefer Wicker, 83, of Newberry, formerly of Chappells, died July 9, 2013.
Born June 27, 1930 in Newberry, South Carolina, Ray was the son of the late Laurence David and Ruth Dominick Wicker. He lived in Newberry until his graduation from Newberry College in 1951. Upon his graduation, Ray became an Assistant Manager and later General Manager for the McCrory Corporation, working for them in Newberry and Aiken, South Carolina; Savannah and Atlanta, Georgia; Lexington, Kentucky; Brooklyn, New York; Atlantic City, Clifton, and Orange, New Jersey; and Chester and Somerset, Pennsylvania.
From 1954 to 1956, Ray served in the Army Counter-Intelligence Corps as an enlisted man in Salzburg, Austria. Upon his return to South Carolina, he attended the University of South Carolina School of Law, where he received his JD degree in 1959.  From there he attended graduate law school at George Washington University in Washington, DC, becoming a Special Agent for the Internal Revenue Service, assigned to Columbia, South Carolina.
In 1962, Ray began service as an attorney in the United States Army as a member of the Judge Advocate General's Corps.  During his time in the Army, Ray served in Korea, Germany, Vietnam, and Ethiopia, as well as stateside, serving initially as a trial attorney for courts-martial in Europe and Asia.  Upon his return to the United States, Ray served as the Staff Judge Advocate for the United States Army Intelligence and Security command in Arlington, Virginia; Deputy Staff Judge Advocate for the First US Army at Fort Meade, Maryland; and Deputy Staff Judge Advocate for Headquarters, United States Army Training and Doctrine Command, Fort Monroe, Virginia. He retired from the Army in 1983 as a Full Colonel.
In addition to his B.S. degree from Newberry College, and his J.D. and L.L.B. degrees from the University of South Carolina, Ray held a B.A. degree from the University of Maryland and two Master of Arts degrees from the University of Oklahoma. He served as a Professor of Law and Business at the University of Asmara in Asmara, Ethiopia, the University of Maryland, and the University of South Carolina at Aiken.
During his legal career, Ray was an active member of the South Carolina Bar, having been admitted to the South Carolina Bar, as well as the Federal District Court for South Carolina in 1959. He was admitted to practice in the District of Columbia in 1960. He was also admitted to practice in the United States Tax Court, the US Court of Claims, the US Court of Customs and Patent Appeals, US Court of Military Appeals, and the United States Supreme Court.
During his time in the Army, Ray was awarded numerous honors, including the Legion of Merit, two Bronze Stars with Oak Leaf Cluster, the Meritorious Service Medal with Oak Leaf Cluster, the Air Medal, and the Army Commendation Medal with Oak Leaf Cluster.
Upon his retirement from the army in 1983, Ray opened a law office as a solo practitioner in Johnston, South Carolina, which he moved to Newberry under the name Griffith & Wicker in 1990. In 1991, Ray formed what would be a twenty year partnership with Lisa Robinson Senn, Esquire, under the name Wicker & Senn, PA, from which he retired in 2009. At Wicker & Senn, Ray worked with several beloved secretaries, the longest of which for twenty years, was Patricia G. "Trish" MacDonald, who along with Ray and Lisa made up Ray's "Big Team".
Ray was a life-long member of his beloved Central United Methodist Church of Newberry, where he served as a Sunday School Teacher of several classes, the latest being the Ezell Bible Class, and also teaching Sunday School on the radio at Newberry's WKDK radio station for decades. Ray also served Central as Lay Leader, having been certified as such for over twenty years, Chairman of the Finance Committee and Administrative Board. He also belonged to a number of retired military groups, and was a member and past Commander of the Newberry American Legion, the Forty & Eight, and the Newberry Lions Club.
Ray is survived by his sisters, Jean Simmons and her husband Charles of Newberry, Patsy Crouch and her husband Fate, of Johnston, his sister-in-law, Christine Murphy Wicker of Newberry, numerous nieces and nephews, and his dear friend, Clare Soponis of Washington, DC. He was predeceased this year by his brother, Laurence David Wicker.
Funeral services will be conducted at Central United Methodist Church of Newberry, where Ray was a devoted member, at 11:00 am on Friday, July 12, 2013 by the Rev. Tresco Shannon and the Rev. Dr. Bob McCollum. Interment will follow in Newberry Memorial Gardens.
Visitation will be from 6:00 pm to 8:00 pm, Thursday, July 11, 2013 at Whitaker Funeral Home, Newberry.
Active Pallbearers will be Emory Simmons, Jr., Dana Perry, Chris Aston, John Paul Whitaker, Victor L. MacDonald, William Mark Senn, Robert William Kopp, W. Frank Partridge, Jr., James S. Verner and Johnny Mack Scurry.
Honorary Pallbearers will be the members of the Newberry American Legion Post 24, The Newberry County Bar Association and the Ezell Bible Class.   
The family expresses their gratitude to Dr. Oscar Lovelace, the staff at White Oak Manor, and Abbey Road Hospice for their exceptional, compassionate care.
The family suggests memorials may be made to Central United Methodist Church, Stained Glass Window Fund, Post Office Box 67, Newberry, South Carolina 29108.
Online condolences may be sent to the family at www.whitakerfuneralhome.com.
Whitaker Funeral Home of Newberry is assisting the family.