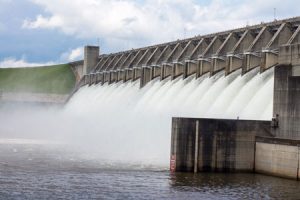 The Corps of Engineers opened the spillways for testing at Lake Thurmond Dam Thursday afternoon, July, 11. A sizable crowd, estimated to be in the thousands, was on hand to see the event. The test of the Thurmond Dam spillways followed the opening of the upstream reservoir spillways at Lake Russell and Lake Hartwell.
All three of the Upper Savannah reservoirs, Thurmond, Russell, and Hartwell, remain at or above full pool as a result of the recent rains. The spillway opening tests are expected to have minimal impact upon lake levels.
For more information, visit the Corps of Engineers website: Balancing the Basin.
Prior reporting: Lake Thurmond Listed Above Full Pool