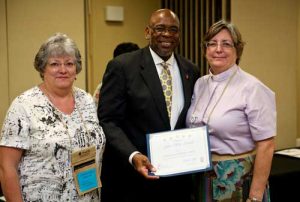 At the 2013 Annual Conference of the South Carolina United Methodist Church held recently in Florence, Trenton United Methodist Church received the Bishop's Five Star Award for Excellence.  Pictured here is Bishop Jonathan Holston presenting the award to Rev. Cheryl Toothe, pastor, and Pam Cook, Lay Delegate.
The Bishop's Five Star Award provides an incentive for churches to embrace new ministries each year geared toward growth and outreach. The award enables small churches—as well as large churches—to receive recognition. The criteria is:
1.) An increase in Sunday school attendance and/or enhancement of Christian education ministry;
2.) A "new work" that impacts growth;
3.) Members received by profession of faith or rededication one for every 100 members;
4.) Emphasis on youth ministries that demonstrate growth; and
5.) All apportionments paid in full for the prior year, or a 25% increase in apportionment payments compared to two years prior.