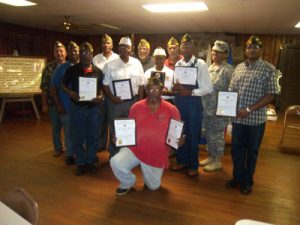 Veterans of Foreign Wars Post 6932 held an awards ceremony on Thursday evening, July 11, 2013.  Post Commander Dwight Talbert began the service by inducting two new members, Renada Williams and Randy Wilson into the post.
VFW District 9 Commander, Roger Warren presented white All State Team Caps to Dwight Talbert and Bennie Culbreath for their participation in the All American 100% membership program, the Voice of Democracy, The Patriot Pin Program, Teacher's Award and for attending numerous district meetings.  Bennie Culbreath was also awarded the VFW National Recruiter Award for 2011-2012.  The Edgefield Adams-Hamilton VFW Post was also awarded a 2nd place membership percentage award.
The post was awarded the VFW National Recognition Award for 2012-2013 and the Sponsorship and Promotion of Local Community Activities Award.  For 2012-2013 they were also awarded the Outstanding Teacher Award, Safety Program Activities Award and The Voice of Democracy Program Award.
Alan Perano from the Edgefield Office of Veteran's Affairs discussed a new program of flights to Washington, D.C. for Korean War veterans to see the Korean War Memorial.  Further information about the flights is available from him.