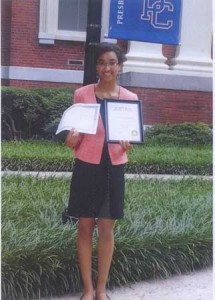 On July 14-19, 2013, Antonia Adams attended Business Week at Presbyterian College in Clinton, S.C., an annual event sponsored by the South Carolina Chamber of Commerce.  The statewide event featured many academically engaged students who exhibited leadership skills due to their involvement in extracurricular activities and in their communities.  About 170 attendees were chosen from hundreds of applicants.  Antonia was one of six attendees from Strom Thurmond High School.
The weeklong program allowed the students to stay on campus and participate in "Entrepreneur," a retail entrepreneurship simulation.  Students were divided into small groups of 12-15 called "companies" and were mentored by a representative from various business and industries.  Each company6 hired a CEO who guided the others in planning decision-making, and implementation.  CEO candidates applied for the position and presented a persuasive speech in order to secure company members' votes. Antonia was elected CEO of Company I.
A variety of activities which involved creative thinking and interaction with others was presented during the week.  Experienced professionals spoke at the many seminars provided.  Their subjects included leadership skills enhancement, public speaking, the interview process, money management, personal and professional growth, etc. During Talent Night, Antonia sang. Movie Night, Junk Night (where creativity was utilized to create inventions out of junk), a field trip to the Caterpillar factory, and a dance rounded out the event-filled week.
At the graduation ceremony, each Business Week attendee received a diploma.  Company I was the overall winner of the retail entrepreneur simulation, with the highest profits, sales and productivity.  Each member of the company also received a certificate for that accomplishment.
Antonia stated, "I was honored to have been the CEO of the winning company." Her memberships at STHS include the Thurmond statesman Institute, Beta Club, Beta Club, FBLA, Mock Trial and Rebel Regiment Marching Band. Her church life is full.  She is the daughter of James and Elnora Adams of Edgefield and the granddaughter of Mrs. Annie Bell Daniel of Saluda.