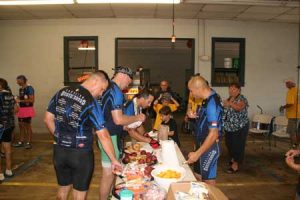 – By Jack Reece –
If you were in Edgefield last Wednesday morning you probably saw a large group of cyclists pedaling into the fire station.  No, they had not been arrested; in fact they are police officers, firefighters and emergency medical personnel from across North and South Carolina who volunteer their time for a great cause.  The goal of the brotherhood is to raise financial and emotional support for the families of emergency responders who have died in the line of duty in the Carolinas.
The Carolina Brotherhood has an annual cycling event made up of first responders from the Carolinas. They ride in the name of their fallen brothers and sisters from the two states. This year's ride was dedicated to the 6 police officers from North and South Carolina that gave the ultimate sacrifice last year. Bobby Gene DeMuth, Jr. – Trooper, North Carolina Highway Patrol, North Carolina Jeremiah M. Goodson, Jr. – Master Police Officer, Lumberton Police Department, North Carolina Dewayne Charles Hester – Deputy Sheriff, Bladen County Sheriff's Office, North Carolina William Mast, Jr. – Deputy Sheriff, Watauga County Sheriff's Office, North Carolina  Sandra E. "Sandy" Rogers – Master Corporal, Aiken Department of Public Safety, South Carolina  Randall "Shane" Thomas – Detective, Henderson County Sheriff's Office, North Carolina.
An opportunity to get down to what this activity is really all about was afforded me during what I discovered to be a rest and refuel break for the riders at Edgefield Town Hall.  As is always the case in situations like this, Charlotte Cheatham, the town clerk, was scurrying around making sure everyone got plenty of liquids and apples in them for the long ride ahead.  One of the members of the Brotherhood spent a large portion of his break filling me in on their goal.  The essence of the activity is to acquire gifts of support that directly benefit the families of our fallen heroes.  Citizens may make donations by contacting Carolina Brotherhood at www.carolinabrotherhood.com or by sending cash or check donations to Carolina Brotherhood, 1003 Clearbrook Road, Matthews, North Carolina 28105.
Well, the visit was short lived as what is known as the "road boss" (sergeant major in my world) ordered the riders up.  "Five minutes and all I want to see are (something I didn't understand) and elbows turning left!!!"  All complied, Charlotte waved goodbye and I eased past the road boss and out the door.  As they passed by me the ones that knew my son-in-law, Lt. Ben Harm, asked me to send their regards.  I did.
The ride started in Rocky Mount on August 10th and ended 7 days later in Boone covering over 700 miles. The riders had overnight stops in Elizabethtown, Darlington, Columbia, Aiken, Honea Path, Hendersonville, and Marion. The ride averaged 100 miles a day and ended with a 6,000 foot elevation climb on the last day into Boone.