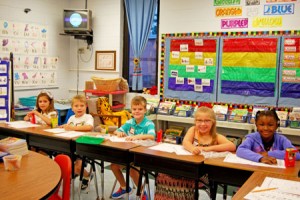 Edgefield School District "New Hires"
School has opened and energy is high.  As seen in the faces in the photo of the Parker children on the first school, there is a freshness in the new year, 2013-2014. Teachers have had a nice break for renewing their energies, as have the administration and students.
There is a new group that adds to the "fresh face" theme, and it is the new teachers  ("new hires") scattered throughout the Edgefield County School District, and they are listed here for the readers:
District Office – Melissa Jackson, Child Nutrition Director; Angela Cornwell, Teacher of speech; Carter Costigan, Teacher of speech; Angie Stone, Administrative Assistant.
Johnston Elementary – Tammy Martin, Assist. Principal; Shanolta Glover, Teacher 5th Grade; Whitney Scott, teacher Special Education; Erin Hattman, Teacher, 1st Grade.
W.E. Parker, Fran Clary, teacher 4th grade.
Douglas Elementary – Jennifer Perdins, Teacher 3rd Grade; Raquel Stevens, Teacher 5th Grade; Yvette Davis, Teacher Special Education; Robin Wates, Teacher Response to Intervention; Gail Jackson, Teacher Speech; Kenneth Griffin, Paraprofessional.
Merriwether Elementary – Gwendolyn Griffin, School Nurse; Taylor Rice, Teacher 4K; Ashley Kaiser Parker, Teacher 4th Grade; Shari Huiet, Teacher (.5FTE) Gifted& Talented.
Merriwether Middle – Dawn O'Kelley, Teacher 7th ELA; Patsy Corley, Teacher 8th Math/Pre-Algebra; Jessica Mathis, Teacher 6th English; Karen Tura, Teacher 7th Math.
J.E.T. Middle – Sulema Chensam, Teacher 6th/7th Math; Jacqueline Myrick, Teacher 8th Grade ELA; Rebecca Freeman, Teacher Special Education (self contained); Meisha Gordon, Teacher Special Education; Jennifer butler, Teacher 8th Science; Ervin Marquis Talbert, Paraprofessional; Merideth Fowler, Teacher 6th Soial Studies; Chester Jennings, Teacher Special Education (LD); Keisha Wright, Teacher 7th ELA.
Strom Thurmond HS – Donald Woolsey, Director Guidance; Lauren Enlow, Teacher English; Lessie Williams (rehired) Teachers, English; Jacqueline Williams, Teacher Spanish; Imelda Shoffner, Teacher Spanish; Mitchell Litwer, Teacher Science; Paul Bundy III, Teacher Social Studies; Amanda Funderburg, Teacher Science; Thomas Behr, Teacher Math; David Miller, Teacher Project Lead the Way; Bobby Tyler, Teacher Math; Donna Guess, Secretary; Lauren Rickabaugh, Teacher Math.