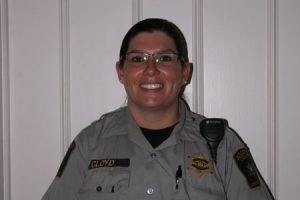 After having had to share a School Resource Officer with JET Middle School this past school year, Merriwether Middle School will this term get their own SRO.  Edgefield County Sheriff's Deputy Angela Cloyd has been chosen to fill this new position.  "I'm just excited," Deputy Cloyd told The Advertiser regarding her new title.  Dep. Cloyd said she likes working with children and added, "If you get to them early you can change their path."
Kevin Butler, Principal of Merriwether Middle, said in speaking with The Advertiser that he is very excited about the school having their own SRO.  He said an SRO's placement in the school is a proactive approach meant to build relationships with the students.  Having known Dep. Cloyd for many years, Principal Butler said he felt she would be a great fit for the school.  "She is very knowledgeable about the law…very student friendly," Butler said.
Dep. Cloyd is a 12 year veteran of the ECSO having worked the past 5 years as a road deputy.  She will become the first female SRO to serve in Edgefield County.  Dep. Cloyd is expected to begin her duties as Merriwether Middle School's SRO sometime this week.