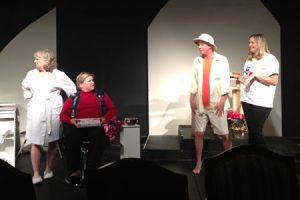 Opening night for Hallelujah Girls is Friday, August 16.
We gave you the story last week; here is some of the action on stage at the William Miller Bouknight Theatre.
Talent from Edgefield and the surround will make your sides ache with laughter. Directed by Jonathan Thomas of Edgefield.  The Staging is quite interesting.
For tickets call 637-3833, the Discovery Center, home of the Edgefield County Theatre Players, on Main in Edgefield.