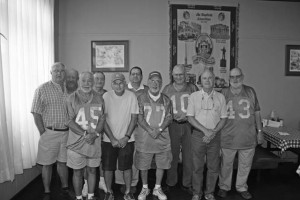 September 7, 1955, were you there?
The Edgefield High School Bulldogs will open their 1955 football season Friday night when they meet the Williston-Elko Blue Devils in Williston.  The kick-off is scheduled for 8 p.m.
The Bulldogs have been hard at work since August 15th, under the leadership this year of Coach Roddy.  They worked out twice a day for two weeks and have been hard at work every afternoon since school started.
The squad is made up this year of 37 boys.  The team will operate from the split-t formation.  Strom Doolittle and W.C. Wood have been chosen by their teammates as co-captains.  The squad is made up of 7 seniors, 7 juniors, 11 tenth graders, 11 ninth graders and 1 eighth grader.  There are 9 returning lettermen from last year's squad to form the nucleus of the team but several of this year's squad saw some action last fall.
Little is known of the strength of Williston-Elko this year but the teams appear to be about evenly matched.  They opened their season last Friday night against Denmark.  However, it rained so much during the first half it was impossible to play the second half.  The rain made it impossible for either team to work smoothly on offense and the score was 0-0 at the time the game was called.
Season Tickets on Sale
Season tickets for the 1955 football season will go on sale this week.  Some of the high school students will have them or they may be purchased at Timmerman and Blocker Drugstore, Lynch's Drugstore or at the high school office.
     The season ticket is good for all five home games:
            Sept.  16-Wagener
            Sept. 23-Ninety-six
            Oct. 21-Johnston
            Oct. 28-Granitville
            Nov. 4-Jackson
Admission to individual home games will be the same as last year-$1.00 for adults and 50 cents for students.  Season tickets will be sold for $4.00 for adults and $2.00 for students.  It is hoped that a large number of season tickets will be sold.