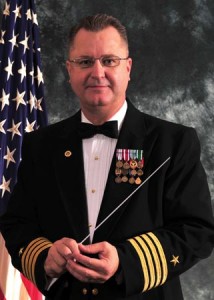 This article originally ran in the print edition on July 3, 2013.
Brian Walden, Senior Musician in the entire U. S. Navy and Senior Band Master for the U.S. Navy Band(s) spent most of his early years in this County, and in the Harmony Community.  He, his parents and siblings lived in the old Hancock Herlong home, which they owned, until it burned when Brian was in his teens.  They then built a home in Trenton which they still claim as home.  His teachers, church members and those who knew him as friends had a great influence upon him – Mrs. Dasher his piano teacher, included – but it was probably the late Mr. Mohorn who helped most to propel him in the direction of leading a band. And Brian was here for the memorial service for Mr. Mohorn following his death. He lead in special music presentations in that program which reminded many of his great rise from band student to leader of one of the Nation's finest bands. With the help of Thomas Herlong of the Harmony Community and Strom Thurmond High band director Van Clark we were able to reach him in for this interview.
Brian was driving from their home in Alexandria, Virginia, with his wife Staci when the Advertiser reached him. He was well able to handle the complexities of an interview as his wife sat next to him at the wheel of their Subaru Outback (for the sake of those who are car conscious), headed down into Virginia to attend a conference of musician/celebrities, and to be the guest speaker. Our first question had to do with his connection to Edgefield County and it went very soon to his developing interest in music.  At home was his mother, who was the pianist for their church, Harmony Methodist; in Johnston was his piano teacher, Mrs. Dasher.  And at school, there was the band.  He stated: "I don't ever remember not knowing I would be [a musician]," but after coming under Mr. Mohorn's direction, he knew it would be leading a band – high school band, was his thought.
In the summer Walden attended music camps at USC and when it came time to attend college, he chose Newberry because he had spent so much time at USC he lost interest there.   He did not graduate from Newberry, but chose to start performing early in his career, and started trying out for opportunities to play on cruise ships and other bands. There was a Navy military band in Charleston at the time and he tried out there.  He was accepted, but it took him a while to commit.  He said, "I was [working] on a tractor in Hamp Holmes's peach orchard when it came clear to me that I wanted to join the Navy [to play in the band]." From there his life took off.
Since his initiation into the Navy and the music responsibilities there, Walden has continued his studies with a bachelor's degree in music with a double major in religions studies from Saint Leo (Fla.) University and a master's degree in wind ensemble conducting from the New England Conservatory of Music in Boston, Mass.  There he was a student of Charles Peltz, Frank Battisti and William Drury. He later studied with Richard Hoenich of the Montreal Symphony and pursued doctoral studies in music education at Boston University.  He is currently in the doctoral program in music education at George Mason University. Thus his studies have taken him, are taking him, to the top.  He also holds a graduate diploma in national security strategic studies from the U. S. Naval War College in Newport, R. I.
With all of this biography, we have failed to say that his instrument is the trumpet, as one might expect.  Along the way we brought up John Philip Sousa – the great bandleader who happened to have a home on Capitol Hill in D.C., not far from the Walden home.  Brian pointed out that Sousa held, in 1917, the title of Navy Band Master (as has Brian).  Also Sousa led the Blue Jacket Band in Chicago which Walden led in 1995-1998.
Brian has "seen the world" with his trumpet, but not without family beside him.  His wife Staci speaks of their life as having been "nomadic," as they have traveled about.  They have two grown sons who live in Virginia: one is working and married and is big in Hampton Volley Ball; the second is the current U.S. Middleweight Kick-boxing Champion.  Muay Thai is the martial art that he is so proficient in.
Wife Staci is a licensed clinical dietitian and is working on her masters degree from Rutgers University. And she plays the flute.
And so the energy for learning and performing goes on in this family.
To know more about Brian, one can go online to find many, many honors and achievements that there is not room for here.  Two we mention that cannot be found there, yet: 2012 Outstanding Graduate of the New England Conservatory of Music, and recently elected to the American Band Masters Association, great honors both.
And what about that speech he was to give on Saturday evening, past?  He said he did not have a planned speech, but to sum it up, he would thank these fellows (members of the Assoc. of Navy Musicians) for their contribution to our country.
And we won't see Brian Walden performing with the band this Fourth.  Sequestration has limited these performances.  However the fireworks will go on at our Capitol City, sans the bands.