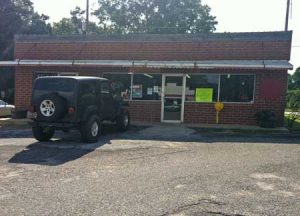 – By Tiffany Ireland –
After 36 years in business, Mims Package Shop on Augusta Road is closing its doors.  Their last day of business will be Saturday, Aug. 24.  Lois Mims, who spoke Friday with The Advertiser regarding the closing, said a lot went in to the decision, but that, ultimately, it was time to close.  "You just can't make what you used to," Ms. Mims said.  Besides citing too much taxation, long hours, and aging as reasons for closing the store, Ms. Mims also said the business district in Edgefield is lacking.  "The business district needs something," she stated and added that one of the things it needs is local support.
As to the future of the package shop's building, Ms. Mims said she is not looking to sell the building but is entertaining the possibility of leasing it to another business.  When asked if Edgefield can expect to see a new business there in the near future, Ms. Mims said, "It's a possibility."  She did say another liquor store will not be occupying the space.