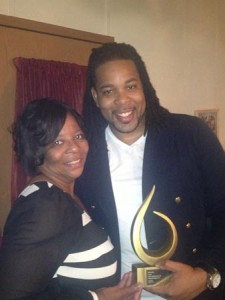 Miles D. Mealing, an Edgefield County native, was nominated for 4 awards in the country's largest independent gospel awards show. It was announced this week that Mr. Mealing received the 2013 Rhythm of Gospel Award "Best Performance by Praise & Worship Artist."
Miles was born and raised in Edgefield, South Carolina, and is a 1997 graduate of Strom Thurmond High School.   His mother, Ms. Cannette Mealing (Edgefield, SC) and his step-father, Henry Nathan Andrews of Johnston, SC, were very influential in supporting Miles's musical ability at an early age. Miles Mealing's father, Mr. Raymond Gordan, also resides in Edgefield, S.C, along with several siblings and extended family.
Miles Mealing is the founder of "Miles D. Mealing and Nu'Movement," a local gospel group founded out of Beech Island, SC, where most of the members attend New Beginning Ministries.  Miles released his debut single nationally and it is receiving recognition nationally and internationally with airplay on radio stations in Paris, France.  Miles's debut single entitled "Try Jesus," which he wrote and produced with producer Kelby Taylor from Charlotte, NC, was released in May of 2012.
The recent news of the award came following the 5th Annual Rhythm of Gospel Awards 2013.  This award show is the largest Independent Artist award show in the country, pulling in an average of 5,000 attendees each year.  This year's awards were televised nationally.
Submitted