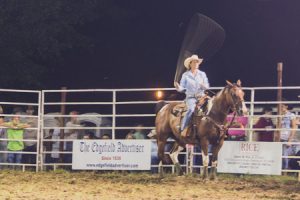 – By Tiffani Ireland –
Professional rodeo riders will again converge on the Westside of Edgefield County, Friday and Saturday nights, Aug. 23 and 24, for the 8th Annual Sandy Oaks Pro Rodeo at the Lazy J Arena.  The fields have been bush hogged, the arena stands ready, and, by press time, the Ferris wheel should be in place.  That's right, a Ferris wheel.  This year's event will not only feature the popular fair attraction but also a merry-go-round, petting zoo, and pony rides.  (As the paper went to press we learned that the Ferris wheel is broken and will not be there.)
Sandy Quarles, who along with her husband, Wesley, owns Sandy Oaks Farm, said rodeo goers can expect "the whole nine yards" at this year's rodeo as it will include not only the ever popular rodeo events such as barrel racing and bull riding but will also feature S.L. Pemberton & Family as the event's specialty act.  This family's skills as trick ropers can be seen during the rodeo's intermission.  The crowds will also be treated to the clowning talents of Aiken County's own renowned rodeo clown, Mike Wentworth, twice named Rodeo Clown of the Year.  Mr. Wentworth will not be the only titleholder making an appearance at this year's rodeo either.  The 2012 World Champion Bareback Bucking Horse will also be showing off the bucking skills that earned him this honor.
In speaking with The Advertiser about the popular rodeo, Mrs. Quarles said, "It's growing by leaps and bounds." As a testament to this, Mrs. Quarles said 10 additional vendors are expected to be showcasing their wares at this year's event.  Among those expected are Boots, Bridles, and Britches, Bruster's Ice Cream, and Thompson Dodge.
As in years past, Sandy and Wesley Quarles will be donating a total of 2000 tickets to schools in Edgefield, Saluda, and McCormick Counties. Regular admission tickets are $10 in advance; $12 at the gate.  Tickets for children ages 6-11 are $5; under 6 are free.  Senior citizens tickets are $9 and groups of 10 or more will pay $9 apiece.  There will be an additional charge for the petting zoo, Ferris wheel (now canceled), merry-go-round, and pony rides, however.  Gates open at 6 p.m. and the rodeo starts at 8.   Unless there is lightning, the rodeo will carry on, rain or shine.  For more information about this year's event, visit the rodeo's website at SandyOaksProRodeo.com.