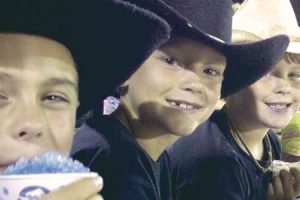 The 8th annual Sandy Oaks Pro Rodeo will be held at Lazy J Arena (10 mi. west of Edgefield on Hyw. 23) on August 23 & 24 at 8 p.m. each night.
Hosted by Sandy and Wesley Quarles of Edgefield the family-friendly rodeo attracts huge crowds each year.
Tickets can be purchased in advance in Edgefield at SRP Federal Credit Union and Crouch Hardware; in Johnston at Maxwell & Halford Drugs.
Visit Sandy Oaks Pro Rodeo for other ticket outlets in the surrounding area.