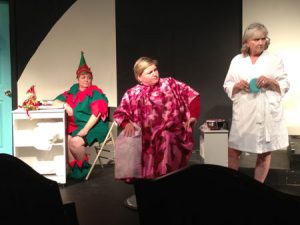 – By Karyn Sealy –
Enter the world of "Spa-dee-dah" salon in a small Georgia town called Eden Falls. Their t-shirts are hot pink and their laughter is intoxicating. The recent production of "The Hallelujah Girls" (a comedy by Jessie Jones, Nicholas Hope, and Jamie Wooten) at the Edgefield County Theatre Company is a warming and entertaining southern tale. Directed by the marvelous and original talent of Mr. Jonathan Thomas, no detail goes unpolished in this performance. Mitchell Bland, Stage Manager, and Mary Benedetto, Assistant Stage Manager, effortlessly handle a set that eclipses a year in the life of the characters. Geneva Burton (Assistant Director and Sound and Lights) stays busy providing sound effects that complete the backdrop of a truly enjoyable performance.
The play opens with the gloom of a recent funeral and a meeting of friends at a building that was once a church. Sugar Lee, played with upmost feeling by Jeanne Webb, breaks the news to her four best friends that she is taking a leap of faith and intends to open a salon within its steadfast walls. The gloom is no foreshadow to what becomes a journey of healing and renewal for Sugar Lee and her closest friends.
Looking for a fresh start, the women open a salon and as good friends do, they begin to share stories of past dreams and unexpected failures. While Sugar Lee appears to be living her dream, her friends find themselves with mixed feelings about moving forward in their own lives. In the comforting atmosphere of the salon the group of friends, now coworkers, begins to open up about their lost hopes. Crystal, played hilariously by Kelly Harris, becomes the cheerleader for the group, spouting made-up songs and sporting outrageous holiday costumes. Nita, played with depth and gusto by
Debbie Fryer, is another source of unending energy for the group to rely on. Mavis, played with great flare by Debra Chance, is an disillusioned married woman. Like Mavis, Carlene, played with spunk by Carolina Bland, too feels miserable, after loosing three husbands to various odd accidents. The audience feels the pain that supplies her hesitation to begin dating again when a new love interest, Porter, arrives (played by the energetic Bill Kassay).
Their broken hearts are on display and their fantastic acting reveals the emotions of this troubled pair. While these women learn to grow out of their set-in gloom, a powerful woman stands between their safe haven and ruin. Played glamorously by Helene Fitch, Bunny Sutherland casts a shadow each time she enters the salon and soon threatens the demolition of their halcyon church. The group discovers that Bunny has caused more trouble than they hoped she was capable of doing.
When Sugar Lee's old flame, Bobby Dwayne, (played with upmost enthusiasm by Jack Elwee) arrives to construct the salon's new sauna, the audience learns of their storied past and feels anguish as they fight their true feelings for one another. Will Bunny be punished for her evil ways? Can the friends stand together to defeat her? Will Sugar Lee and Bobby be reunited after 30 years? These are some of the lingering questions that build to a thrilling climax of events and heart-warming encounters.
Not to spoil the surprise, but Kayla Hall, age 8, expressed that her favorite part was when "[Bunny Sutherland] came in and [the women] were going to keep the place." Her cousin, Kirstie Smith, age 11, expressed that "[the show] was good," she especially enjoyed what happens to Bunny. Christian Haskins, age 5, rightly summed up the performance as one that is enjoyable because of "the funny parts," – and there are many!
The show itself is an excellent reflection on life's many hurdles and the faith that keeps us all moving forward.