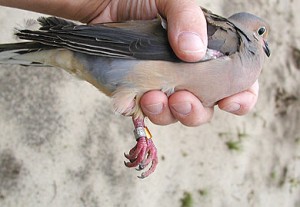 Since 2003, the S.C. Department of Natural Resources Wildlife Section and other partners have taken part in a long-term, multi-state banding project on mourning doves to improve information on dove life history.
Over thirty-five states across the nation are participating in this landmark project, and more than 350,000 doves have been banded since the project was initiated. Wildlife biologists use survival rates, harvest rates, recruitment rates and population trends to help guide harvest management decisions. Banding is one of the most important tools used to obtain this information.
For more information on the dove banding project, call the S.C. Department of Natural Resources (DNR) Small Game Project in Columbia at (803) 734-3609 or visit the Mourning Dove Research and Management page.
DNR is recognized nationally as a leading agency in dove research and management efforts. Throughout much of the 1990s, DNR participated in research projects that examined age and cause-specific mortality in doves. Information gained from the current banding effort will be used in conjunction with previous information collected in South Carolina and elsewhere to improve biologists' ability to manage doves at regional and national levels.
Doves are captured and banded at more than 35 sites across South Carolina each year. Captured birds are marked with a metal leg band containing a unique number and the 1-800-327-BAND telephone number, which hunters can use to report the band. Since 2003, personnel from DNR, the U.S. Fish and Wildlife Service and other agencies have banded more than 19,500 doves across the state.
"This overwhelming success is a credit to all of the personnel involved in banding each year," said Billy Dukes, DNR Small Game Project supervisor. "It demonstrates a commitment on the part of all participants to improve our knowledge of dove populations and our ability to properly manage this important resource."
Hunters are a critical link in assuring the success of the banding study. By reporting any banded doves harvested, hunters add valuable information that will assist in the management of this important migratory bird resource. Hunters who harvest a banded mourning dove should call 1-800-327-BAND (1-800-327-2263) to report the band number. Operators will be on duty 24 hours a day, Monday through Friday, during the hunting season. Outside of the hunting season, hours of operation are 7 a.m. to 4:30 p.m. Banded birds may also be reported online. Hunters can keep the bands and will be provided a certificate identifying the age and sex of the bird, as well as the date and location the bird was banded.
"Large-scale banding efforts like this offer a unique opportunity to examine survival rates and harvest rates of doves across the continental range of the species," said Dukes. "We expect our participation in this project to greatly increase our understanding of dove population dynamics at state, regional and national scales."
The 2013-14 mourning dove seasons in South Carolina are Sept. 2-Oct. 5 (afternoons only Sept. 2-7), Nov. 23-30, and Dec. 19-Jan. 15. Shooting hours are noon to sunset from Sept. 2-7, and 30 minutes before sunrise to sunset for the remainder of the season. The bag limit for mourning doves is 15 doves per day. Dove hunters are reminded of the requirement to obtain a migratory bird permit before hunting. The migratory bird permit is required in addition to a hunting license and can be obtained free of charge from any hunting and fishing license vendor.
Mourning doves are among the most abundant birds in South Carolina and are second only to deer in hunting popularity in the state. Each year in South Carolina, about 45,000 dove hunters harvest around 900,000 doves. The estimated continental population of mourning doves is more than 375 million birds.