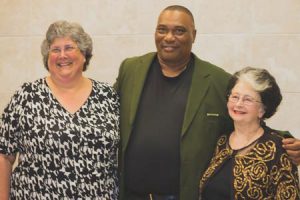 The Edgefield County Chamber of Commerce and Edgefield County School District joined for the annual celebration of some very special individuals on September 3rd at the Strom Thurmond High School cafetorium. Attendees enjoyed a special program and dinner. Each of the school Teachers of the Year and Support Staff of the Year were honored with special gifts.
Becky Turner is COY
The Edgefield County Chamber of Commerce announced at their yearly celebration, Tuesday evening, that Rebecca "Becky" Turner has been named the Citizen of the Year. On the nomination form the place for "nominee's employer" held these words: "Our Community."  Her position was listed in her "employment" as "volunteer."  Enough said, but there is more.
Becky's giving to the communities at large was recognized in the following words by the nominator: "Becky is a member of many non-profit organizations. She donates her time, talents and personal funds.  She is a wonderful leader and serves as a board member for several of the organizations. [She] is energetic, dedicated, works well with others and is always willing to lend a helping hand to make a difference."
Other leading lines were: "She works very hard, with a smile, without a pay check or recognition, to make our community a better place to live. . ."
A glance over the list of information about this well-known citizen underpins the forceful remarks already recorded: she is a registered nurse, wife of Dr. Wiley Turner (a recent COY), mother of two and grandmother of five.  And here are some of her activities: children's nursery at the First Baptist Church, writes Cook's Corner for The Edgefield Advertiser, bakes every Saturday for the Civic League bake sale, volunteers to decorate the Town for special occasions, gives to local citizens in need, and plants and waters flower boxes over Town – acquiring the nickname "water fairy" (as she comes in the night and sometimes unseen).
A former downtown merchant herself, her activities of leadership are generally seen in downtown Edgefield – three (of many too numerous to print)to note, Civic League, ECDA, and board member of Edgefield Cemetery Assoc., a leading nonprofit organization in downtown development.
Anyone not knowing Becky, and there could possibly be a few, may wish to look carefully as the Christmas tree on Edgefield Square is being put up this season, for she may be there directing the work, not being a bit afraid to ride in the cherry picker to make sure the Christmas balls hang properly.
Libba Ingram is TOY
Elizabeth "Libba" Ingram, a teacher at Strom Thurmond High School, was named the 2013 District Teacher of the Year and will be participating in the South Carolina State Teacher of the Year competition during February, 2014.  Ms. Ingram is an Edgefield County native and consistently supports both the school and community.  Several of her colleagues shared comments that noted Ms. Ingram is genuinely concerned about her students, attends as many school activities as possible to support her students, she implements hands-on activities and strategies in her classroom, and makes the academic material relevant to their lives.  Ms. Ingram assists with the production of the STHS yearbook and is the guiding force behind the Relay for Life Team at STHS.  She serves on the Leadership Team at STHS.
Leroy Rouse is SSOY
Leroy Rouse was named the 2013 District Support Staff of the Year.  A fellow staff member wrote, "Coach Rouse is more than just a good role model and basketball coach to the students."  He drives buses, handles discipline issues in a firm, but compassionate manner, he is there to open school when needed, and he talks and helps students with specific needs.  Many of his duties involve tasks that support the teachers and administration in ways that are difficult to describe, but each of these tasks assist in helping the entire school run smoothly.  He is known by all to have a spirit of humility and he has a sincere and consistent dedication to every staff member and student at Strom Thurmond High School.