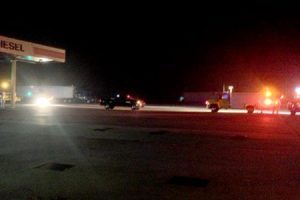 As we were delivering papers early Wednesday morning, we came upon AirMed landing at Billy's in Trenton. They had been called in to medivac the victim of a single car accident on Highway 121 between Trenton and Johnston.
At the scene of the accident, Edgefield County Sheriff's Deputies were hesitant to provide details, other than, "the car left the road and struck a power pole knocking down about 300 yards of power line."
We will post updates as we receive them.
Update
– By Tiffani Ireland –
According to Emergency Management Agency Director Mike Casey, who spoke with The Advertiser, around 4:30 Wednesday morning, a woman driving along Hwy 121 at the curve before Ridge Recycling Center left the roadway and struck a power pole.  The single car accident resulted in the pole being broken into two pieces and knocked several feet of power line to the ground.
The woman, estimated to be in her 30s, was the sole passenger of the vehicle and was described as being semi-conscious at the scene.  In keeping with protocol, she was airlifted to Georgia Regents Hospital in Augusta, Ga.  There was no additional word on her condition.
Both Johnston and Trenton Fire Departments responded to the scene as did SC Highway Patrol, the Edgefield County Sheriff's Office, EMS, and EMA.  An extrication of the woman from her car was necessary before she could be transported.  Mr. Casey commended all involved for a job well done.
According to Mr. Casey, the accident "knocked a large portion of Johnston offline."  However, the power was quickly re-routed and has been restored.