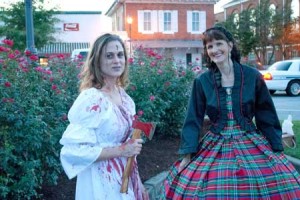 The Southern Studies event of last weekend was a great success, according to the Tompkins Library director Tonya Browder. She noted that someone said, and many agreed: "Edgefield is one of the most hospitable places I have been," noting that people were friendly wherever they went.
The businesses in Edgefield were happy with the attendees as they browsed and shopped between sessions, according to Browder.  The sessions, 24 classes in all, were held in the Discovery Center, Town Hall and the Methodist Church, and the hosts for the event were grateful to persons who made these venues possible.
Probably the climax – at least in terms of food and fun – was on Friday evening when a block party was held on the square. NWTF provided the "infrastructure" of chairs, tables and signage for this event, which included a bountiful meal, two re-enactments and real drama that frightened even the dramatist herself.
That dramatist is Tonya Browder who had Ashley Hatcher playing Becky Cotton on the square.  Becky appeared in her costume, from the play of last year, all bloody from the killing of her husband, and she walked the square.  A smoke bomb burst at the place where she was stoned to death, in the plant bed of the courthouse.  That got the attention of the onlookers, but when she walked through another burst of smoke near the hotel building, it was Tonya, telling the story of Becky as she walked, who almost lost control.  She said that seeing Becky emerge in her bloody dress from the smoke was startling, and ultimately most entertaining, in an eerie way.
On October 13, 1858, some of the citizenry (men of course, at that time) were having a good time drinking and setting off cannons on the square when the frolicking got dangerous and someone was stabbed.  This was re-enacted by the SCICWRA group (Civil War re-enactors who will be here for the festival this coming weekend) with dueling cannons. A second re-enactment was of the 1878 Sheriff's office robbery, Justin Guy playing, dressed in black (like our own sheriff sometimes), the sheriff at that time.
"The food was superb," said Browder, as she listed the tasty dishes catered by Old Edgefield Grill: braised angus chuck roast, mashed Yukon potatoes and gravy, green beans and rolls, topped off with a bread pudding with chocolate chips and caramel drizzle.
(If you missed all that, chances are you will have a chance next year!)