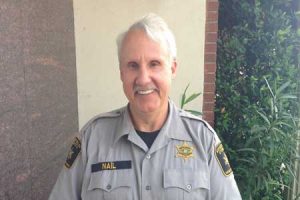 Dep. Chuck Nail with the Edgefield County Sheriff's Office has been selected as Fox Creek High School's new School Resource Officer (SRO).  Dep. Nail, a 2 year veteran of the sheriff's office, previously served 31 years with the U.S. Park Police in Washington, D.C., where, he jokingly said, he spent his time "riding a horse around the White House."  Dep. Nail also currently serves as a Master Sergeant with the Air National Guard.  In an interview with The Advertiser, Dep. Nail said of his new position, "I'm here because I want to be here, not because I have to be."  He went on to compliment the high school and said he is very excited to be working there.
Of the addition of an SRO to the school, Interim Principal Josh Trehan said in speaking to The Advertiser that in light of recent national school events," We all realized we have needed it [an SRO position] in the last few years."  Mr. Trehan said the SRO position is a proactive move for the school and said Dep. Nail was "doing great" and was "very supportive of the students."
Interestingly, the SRO position at Fox Creek is not funded as is the recently reported new SRO position at Merriwether Middle School.  The funding for the MMS SRO is through a grant in which the Edgefield County School Board contributes 10%.  However, Fox Creek's SRO is funded solely by the high school.  While still an employee of the ECSO, Dep. Nail's salary and benefits are reimbursed to the ECSO by Fox Creek.
—
Have something to say? Leave your comments below.