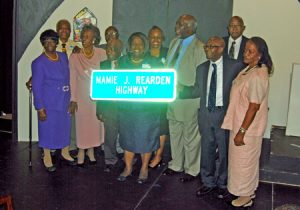 – By Ethel Butler –
On Friday, September 6, 2013, at 3 p.m., a beautiful dedication ceremony was held for the Mamie J. Rearden Highway at the Joanne T. Rainsford Discovery Center in Edgefield.
After a concurrent resolution – It was a request that the Department of Transportation name the portion of Pleasant Lane Road in Edgefield County from its intersection with U.S. Highway. 25 to its intersection with U.S. Highway 378 "Mamie J. Rearden Highway" and to erect appropriate markers or signs along this portion of the highway that contains the words "Mamie J. Rearden Highway."
The honorable Harrison Rearden, SCDOT Commissioner, presided over the program. The welcome was done by daughter Mrs. Mary McCain. Some of those making remarks were Honorable Shane Massey (SC State Senator),Honorable William "Bill" Clyburn ( SC State Representative), Honorable John Scott, Jr.(SC State Senator), Rev. G.L. Brightharp, Rev. Irving, Rev. Craig Myers and others.
The unveiling of the sign was done by the family of Mrs. Mamie J. Rearden. Family response was by daughter Sara B. Rearden, Esquire. She gave thanks to everyone with a special thanks to Ms. Tessa Griffin and others. Deacon George Rearden, a son, gave closing remarks.  Rev. Craig Myers, pastor of Springfield Baptist Church, gave the benediction. A reception immediately followed the program. Many, many guests attended.
At the time of Mrs. Rearden's death on January 2, 2013, she was 114 years and 117 days old, the oldest living American citizen and the oldest African-American in the world.