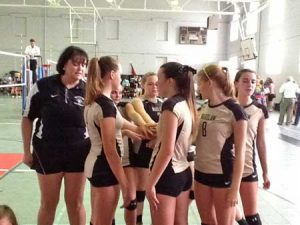 The Wardlaw Volleyball team is at it again, rolling over another Region opponent in a 3-0 match played at Mead Hall on Thursday August 29 with scores of 25-15, 25-18, and 25-14.  Leading the charge for the Patriots were Juniors Katie Warnken with 10 kills, 3 blocks, and 6 digs, and Nicole Jackson with 6 kills, 4 digs, and 4 aces.  Warnken was recently moved from setter to middle hitter to help cover for injured Senior Lauren Williams, who hopes to be back to play in another week. Sophomores Carly Anne Carr and Lauren Hammett also chipped in for the victory.  Carr added 4 kills and 6 digs while Hammett had 3 digs.  In addition, Wardlaw was pushed along by Mara Brumbaugh (3 aces), Kylie Wash covering Left side hitter (3 kills), and Beth Warnken who took over the setting role for her sister (21 assists).
"Any time you have people covering new positions, you have the opportunity for great growth in those players," said Assistant Coach Christie Warnken.  "While we would love to have Lauren Williams back, we are so proud of the girls for pushing themselves to fill some very big roles, and doing it with good attitudes and great success," said Head Coach Kathy James.
The 1A Patriots next took on AAA opponent Heathwood Hall in Columbia, SC, defeating them in straight sets with scores of 25:14, 25:18, 26:24.  Jackson stepped up yet again with 5 kills, 3 aces, and 8 digs, while Carr connected for a whopping 12 digs, 1 block, and 4 kills, hitting a hot 23% hitting efficiency, her highest of the season thus far.  K. Warnken contributed another 10 kills and 1 block, while freshmen Wash and B. Warnken chipped in 4 aces and 16 assists respectively.  All in all, it was a strong showing for Wardlaw, now 9-1 on the season and 3-0 in region play.  The Patriots next travel to face region opponent Cambridge Academy on Tuesday, September 10 for both JV and Varsity matches.