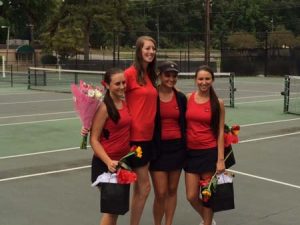 Fox Creek High School girl's tennis team played their last home match Monday, October 7. The three senior tennis players, Kaylee Bryant, Savannah Jones, and Morgan Manly, were recognized in a short ceremony before the match against Batesburg-Leesville began. They were presented with flowers and a gift and posed for pictures with teammates, family, and friends. The match began a little after five p.m., and ended with Fox Creek winning 6 of the 7 match-ups.
All three senior girls were elated at winning their matches, as it was the last home game of their high school tennis career.
Also winning were three freshmen: Hannah Cain at number five singles and Christy Buist and Bethany Sowell at number two doubles. Junior Halle McPherson put up a great fight and lost in a tie-breaker.
The last regular season match will be away at Saluda at 5 p.m. on Wednesday, October 16.
—
Have something to say? Please leave your comments below.