50 Years –Historical Overview of Beckman
Now Under Leadership of Edgefield Native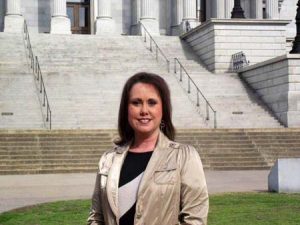 The Beckman Center for Mental Health Services opened its doors to serve the residents of Abbeville, Edgefield, Greenwood, Laurens and McCormick counties on Jan. 7, 1963. The original clinic, named the Area Five Mental Health Center, was located in Greenwood and staffed with two full time employees and one part time psychiatrist. Saluda County became part of the center in 1964 and Newberry County in 1965, giving us the area that we continue to serve.
In 1966 the name of the center was officially changed to The Beckman Center for Mental Health Services in memory of W.P. Beckman, M.D. who had served for many years as the State Director of Mental Health for the South Carolina Mental Health Commission and was a pioneer during the original community mental health movement. The BCMHS is unique as the only community mental health center in S.C. to be named for an individual rather than a geographic distinction.
The second "unique" feature in Beckman Center's development is the responsibility it has for the largest land area among state mental health centers. Its land mass covers over 3500 square miles and its seven counties outnumber others as well. Consistent governance has been provided by a 15 member Board of Directors reflecting each county's representation.
Greenwood County has been the hub of Beckman services with a variety of satellite clinics and collocated services branching out over the years beginning with the opening of the Laurens Mental Health Clinic in 1975, followed by Newberry in 1979, Abbeville in 1984, Edgefield in 1986, Saluda in 1986, and McCormick in 1992.
1997 was a milestone year as Beckman received its first accreditation by the Commission on Accreditation of Rehabilitative Facilities (CARF). Beckman has successfully completed CARF Survey every three years since then.
In 1998 the Beckman Board adopted our first Center Mission Statement allowing us to focus on those most urgent mental health needs in our area.
Another notable year was 2003. On January 6, The Beckman Mental Health Center opened its new 28,000 square foot home. Ironically this was just one day short of its 40th anniversary. The journey to 1547 Parkway, Greenwood had been long awaited as an opportunity to reunite the menu of services offered Greenwood residents and the Administration for center operations.
In 2008 Melanie Gambrell, native of Edgefield, became Beckman's fifth Executive Director. At any given time there are approximately 2500 clients in service with approximately one-third of them children or adolescents.
The Beckman Center is a part of a much larger system, the South Carolina Department of Mental Health (SCDMH).  SCDMH consists of 17 Community Mental Health Centers, 4 Psychiatric Hospitals, 4 Nursing Homes, a Forensics Program, and a Sexually Violent Predator Treatment Program.
—
Have something to say? Please leave your comments below.