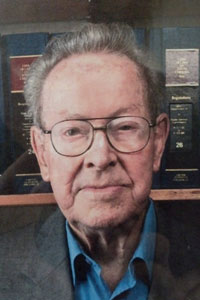 NORTH AUGUSTA, SC – Mr. O. Douglas Smith, 89, husband of the late Mary Moser Smith, entered into rest on Monday, October 21, 2013 at his residence
His graveside service will be held on Friday, October 25, 2013 at 11:00 AM in Pineview Memorial Park with Dr. Joe Lusk officiating.
Mr. Smith served in the US Army during WWII in Belgium, France, England, Scotland and Wales. After his service, he attended the University of South Carolina and received his law degree.
He started his law career in 1952 with the firm May, Rich, and Grant and soon after, he started his own practice in North Augusta, becoming the city's first attorney. He served as North Augusta's city judge, city recorder, mayor, city attorney and the chair of the municipal election commission. He practiced law 61 years before retiring in February 2013.
He taught the Men's Sunday School Class at Grace United Methodist Church, where he was a member. He was also a member of the Masons, Shrine Club, the Lions Club and the American Legion. He will be remembered for his gardens, quick wit, good sense of humor and acts of generosity.
Survivors include one daughter, Jennifer Wilson and her husband Lee of Graniteville, SC; two sons, Mark Smith and his wife Carol of Columbia, SC and Brody Smith of North Augusta, SC; one sister, Jackie McLemore of Belmont, NC; three grandchildren, Katie Gates (David), Parker Wilson, and Madison Smith; and two great grandchildren, Brayden and Landen Gates.
The family will receive friends at the funeral home on Thursday evening, October 24, 2013 from 5 until 7 PM.
Memorials may be made to the Jesse C. Lynch American Legion Post 71, P.O. Box 6036, North Augusta, SC 29861-6036.
Please visit the online register at www.rowlandfuneralhome.com
Rowland Funeral Home is in charge of arrangements.