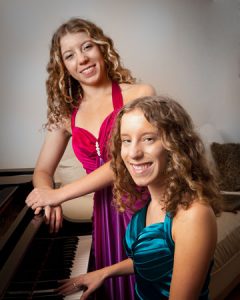 – By Tiffani Ireland –
Imagine expectantly awaiting the birth of twins, only to have those expected gifts to come very prematurely into the world.  Then imagine having those tiny gems, one weighing three pounds and the other only a mere pound, being given grim prospects and small chances for life.  Then fast forward nearly twenty years and imagine watching as one of those little girls sings a Mozart aria to a packed house and in front of a renowned vocal coach from the Julliard School.  Amazing, right?
Well, that is what Cindy Longobardo of Johnston, SC, experienced Saturday at Shandon Baptist Church in Columbia, SC, as she watched her daughter, Natalie, perform at a Master Class sponsored by the National Association of Teachers of Singing.  Natalie and identical twin, Shannon, both attended the prestigious event at which esteemed vocal coach Arlene Shrut was in attendance and from whom Natalie earned a private lesson.  Not bad for, as their mother described, two formerly "very premature, small, sick" girls.
As she spoke to The Advertiser about the past weekend, the gratitude Mrs. Longobardo feels for the girls and their accomplishments was palpable.  Having given up her career as a nurse to care and later homeschool the twins, there was no doubt in the pride Mrs. Longobardo has watching her girls pursue their dreams.  Do those dreams include becoming opera divas The Advertiser asked?  Not really, stated Mrs. Longobardo, as it is a "very, very hard life to be an opera performer."  The girls are more grounded in their aspirations she related, and are looking to someday become vocal and piano teachers themselves.
To that end, both girls are double majoring in vocal and piano performance at Converse College where they are currently in their sophomore year.  While excellent students, Natalie carries a 3.9 GPA and Shannon a 3.67, Mrs. Longobardo did conceded she faced some motherly angst this year for the girls as they returned to school due to the fact that Natalie and Shannon had decided to become college roommates.  Not exactly worried about sibling rivalry, they are "very supportive of one another" she attested, it was because they are so close and know each other so well that her concerned mother  antenna activated.  But, fortunately, there was no cause for concern, as Mrs. Longobardo reported the rooming situation is working out just fine.
Another thing working out just fine for the girls is their opportunities to showcase their opera talents.  Both girls will be in Converse's January production of Dido and Aeneas in which Natalie will play Belinda and Shannon a witch.  The twins will also be performing in an upcoming production of The Impresario.  When not performing on stage, the twins' vocal talents can be heard at St. Paul's Catholic Church in Spartanburg or, although more rarely because of their demanding schedules, at St. Mary's in Edgefield.
I myself recently had the opportunity to hear the girls sing, however, I missed out.  You see, my family and I briefly met Shannon and Natalie at a mutual friend's house over the summer.  Upon our introduction, we were told of the girls' opera talents, and the man of the home playfully tried to induce the pair to regale us with their vocal gifts.  Alas, it was to no avail, and we missed our private concert.  Had I known then what talented young women these two are, however, I might have pushed harder for that free concert, because, if their stars keep rising, I might have to pay big bucks to see them perform in the future.  However, maybe I will sneak into St. Mary's one day while they are in town and catch a performance.  Or, better yet, maybe that rural Baptist Church which I attend will issue them an invitation to perform.  Either way, better have those pipes warmed up girls, because next time we meet, I hope to hear some opera music.
—
Have something to say? Please leave a comment below.