CLEMSON, S.C. – Despite the Clemson Tigers' hopes to crush the Maryland Terrapins on the football field Saturday, Clemson researchers are dedicated to protecting turtles in a human-altered ecosystem.
"A healthy planet relies on biodiversity, and turtles are an intricate part of a healthy ecosystem," said Robert Baldwin, an associate professor in Clemson's School of Agricultural, Forest, and Environmental Sciences. "Spotted turtles are declining throughout the eastern U.S. due to habitat loss and vehicle mortality."
Baldwin and graduate student Chris O'Bryan are using are very high-frequency radio transmitters to monitor spotted turtles' movement patterns, habitat selection and nesting along North Carolina's southeast coastal plain to illuminate the effects of humans on semi-aquatic and aquatic wildlife.
"Industrial forests serve as a refuge for the spotted turtles," O'Bryan said. "The turtles are using an extensive network of drainage ditches for movement, feeding and mating. They're also able to move more freely and safely between the ditches since managed forests tend to have less-traveled roads."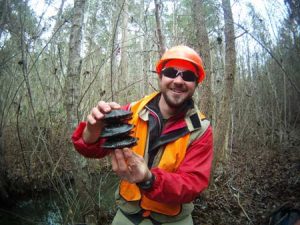 Baldwin and O'Bryan are developing land-management plans and will publish and present their findings to land managers in hopes of influencing wildlife habitat preservation in the Carolinas and throughout the U.S. Baldwin and colleagues have published a number of articles examining the effects of habitat fragmentation on connectivity for wildlife, including radiotelemetry studies.
Likewise, Jacob Sorber, assistant professor in Clemson's School of Computing, is developing tracking devices to monitor interactions and understand the genetic connectivity of desert tortoises in restrictive corridors.
"We are building a radio-based sensing network to provide approximate localization and estimate animal-to-animal meetings and potential meetings," said Sorber. "Our findings will benefit the ongoing work of United States Geological Survey biologists studying desert tortoises and will contribute knowledge and technological tools to the greater scientific community that will benefit other ecology-monitoring studies."
Identifying corridors that promote gene flow and those that act as barriers to connectivity is a key step toward maintaining viable tortoise populations using effective evidence-based management decisions, according to Sorber.
Sorber and his team of researchers are planning a deployment of mobile device-equipped desert tortoises in Nevada later this year and will publish their findings.
Clemson Computing and Information Technology also is collaborating with wildlife researchers using the Palmetto Cluster, a primary high-performance computing resource, to run large-extent habitat connectivity, gene-flow models for the southeastern U.S., supported by the US Fish and Wildlife Service.