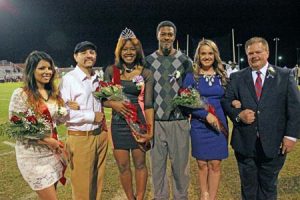 Strom Thurmond High's 2013 Homecoming Queen was crowned Friday evening at half time.  She is Shayy Widner.  She stands (center) with the first runner-up (left) Yahaira Escalera and second runner-up, Megan Sherman (right).  They are pictured here with their fathers.
Photo by Bill Hart for The Advertiser.
—
Have something to say? Please leave your comment below.