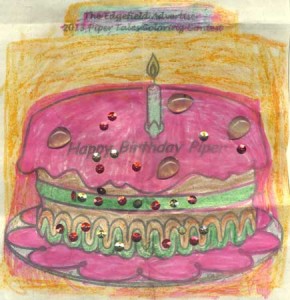 Congratulations Destiny Simpson! 3rd Grade – Pleasant Hill Elementary
Destiny is the grand prize winner in the Edgefield Advertiser's Piper Tales Birthday Cake Coloring Contest!  Her creative and imaginative use of vivid colors embellished with sparkling jewels and sequins won the hearts of the judges!
Piper and Miss Penny appreciate all the efforts of all the contestants who came from 10 different schools including one from Sullivan's Island on the coast of South Carolina and another all the way from Raleigh, North Carolina!
Piper, the very lucky black and white dog, whose continuing adventures are featured weekly in the Edgefield Advertiser, thinks Destiny is a very lucky little girl to have won the beautifully decorated Piper Tales Birthday Cake prepared by The Cake Man, Philip Trotter of Cakes To Go! (803-637-3751)
But what is a birthday cake without ice cream?  B o r i n g…  So, to help complete the celebration, our own McDonalds of Edgefield has generously offered to treat the following Honorable Mention Entrants to a complimentary Hot Fudge Sundae!
W.E. Parker Elementary: Hartley, Laney and Sara
Johnston Elementary & Satcher Ford: Taylor, Robert and Shelby
Pleasant Hill Elementary: Grand Prize Winner – Destiny Simpson
Johnston Edgefield Trenton Elementary: Elizabeth and Savannah
Douglas Elementary: Derrien
Fairforest Elementary: Kaydee, Rylan and Bralyn
Spiller Home School: Tyleigh, Adaline and Novelyn
Merriwether Elementary: Alissa
Sullivans Island, SC: Taylor
Raleigh, NC: Zoe
Please stop by the Edgefield Advertiser to receive your hot fudge sundae gift certificate.
Thur. – 9:00 a.m. – 4:00 p.m. Fri.    – 9:00 a.m. – 4:00 p.m.
117 Court House Square
P. O. Box 628
Edgefield, SC 29824
Phone: (803)637-3540