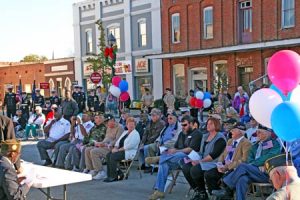 – By Robert Loar –
The afternoon shadows were lengthening in Edgefield town square as 50 U.S. veterans of all services stood silently in formation, for many it was filled with memories or past formations when they were active duty.  Many were in their youth again if only in their thoughts.  Chests were swelled with pride.  The sound of the bagpipes cut the air and they marched smartly single file to reserved seating provided them.
The citizens of Edgefield gathered to celebrate Veterans Day, November 11th, 2013 with the veterans and to make it one of the most memorable days in recent memory.  The program was hosted by Edgefield VFW Post 6932 commanded by Mr. Dwight Talbert and MC'd by Mrs. Jane Herlong.  Lovely singing was provided by the Willie Bacon trio and Brenda Abney and The Bones of Fire.  Captain Gray and the Strom Thurmond High School NJROTC were magnificent.  Brigadier General James F. Burt of the SC State Guard was the guest speaker.  The general recounted the conflicts that America was involved in since World War I.  The list seemed endless and yet America still must send her youth to defend our way of life on foreign shores.  The end may never be in sight which means that other men and other women veterans will occupy those chairs and citizens of Edgefield who are but children now will wave our country's flag and cheer them for their service.  No combat veteran ever enjoyed combat; no combat veteran left for war and came home the same person.  Our debt of gratitude for them must never be slighted.  Thank God we never had to change places with them and thank God they never asked that we do that.  Freedom is perishable, it must be protected.
The shadows gathered into twilight as small groups of veterans recounted their service stories before leaving the square empty as before.  Rest easy tonight Edgefield, rest easy America, military members are standing the watch.