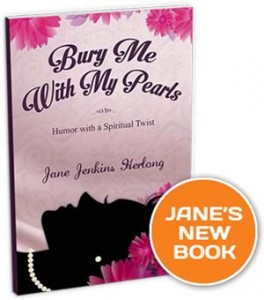 Jane Jenkins Herlong is launching a new book, today!  Her book is Bury Me With My Pearls whose title reaches back to her mother, according to Jane.  She first heard that expression from her mother many years ago.
This new book is billed as "a real-life, roller-coaster ride of laughter, tears, and stomach-churning truths written by a professional speaker, humorist and singer who, as Miss South Carolina, represented her state in the Miss America pageant." And the folks of this area know the Jane they are talking about. She walks among us, emcees programs for us (as she did on Sunday past for the Veterans Day program), makes us laughs, and shares her talents of humor and song in the church and community.
This woman travels a great deal, but seems always in good spirits and welcoming of everyday conversation. In speaking with her about her new book, on Tuesday, she was rushing to get off to Nashville where she would be launching this work from Lighthouse Publishing of the Carolinas..
She says the mention of pearls also includes the "dark pearl" that must be lived and opens the way for growth. "It is spiritual i
n intent," and follows a Christian base, featuring "a biblical principle to address the importance of guarding our spiritual gifts and doing the right thing," as her publicity reads.
This is Jane's 8th book, and she is no prig: note her last book title, What Ta-Ta's Teach Us, about breast cancer.
This former Miss South Carolina has won the hearts of all her neighbors and friends who extend, exponentially, from Harmony community where she and her husband Thomas live.  They have two adult children who are in and out of the home, making their own way in the world.