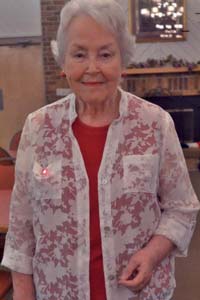 MARY ESTHER, Fl. – Dora Ione McDuffey Perano was born on October 7, 1926, Leonard, Texas. She is the daughter of John N. and Myrtle Anne Tingle McDuffey.
Dora attended Robert E. Lee School and graduated from Sherman High School, Sherman, Texas in 1944. She attended North Texas Business College and Dallas College (SMU), Dallas, Texas. She retired from U.S. Civil Service. Dora was an active member of Beta Sigma Phi Sorority for over 60 years. She also served as a volunteer for the American Red Cross, as a Gray Lady, at various Air Force Bases in the States and overseas. Dora was an active member of the Catholic Church.
Dora married James Thomas Perano, September 23, 1950 in Saint James Catholic Church, Dallas, Texas. Dora is preceded in death by her husband.
They were the proud parents of five children, James Ray Perano and his wife Linda, of Paso Robles, California; Richard Thomas Perano, deceased; Patricia Ann Perano of Pensacola, FL, Alan Michael Perano and his wife Mary Cortez Ouzts Perano, of Edgefield, South Carolina and Mark Andrew Perano, of Pensacola, Florida and 8 grandchildren.
The Funeral Mass will be held at Saint Peters Catholic Church, Mary Esther, FL, on Wednesday, November 13, 2013 at 11am with Father Nelson Toledo officiating. Interment will follow at Beal Memorial Cemetery.
In lieu of flowers, a donation can be made to Air Force Enlisted Village, 92 Sunset Lane Shalimar, FL 32579-1000.
Expressions of love and sympathy may be viewed online at www.emeraldcoastfuneralhome.com