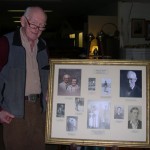 After receiving reports of merchandise being moved by the truck load from Terry Ferrell's Antique Shop on Main Street on Tuesday, Nov. 12, The Advertiser was able to confirm all the pottery and valuables are being moved from the store to an auction house in Camden.  This gave rise to the question of is the antique shop closing its doors?  However, while that appears to be the case, there has been no definitive confirmation on this matter.
Mr. Ferrell, who is in his nineties and who has operated his antique business in Edgefield for nearly 15 years, is currently described as very ill, and this illness has impeded contact with his friends in Edgefield.  Mr. Ferrell's illness was also given as the reason the shop owner has not been seen in Edgefield of late.
The Advertiser will continue to pursue this story and update it has more information becomes available.