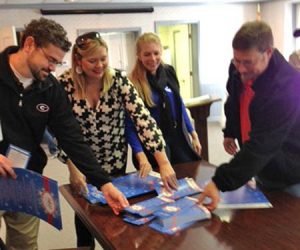 Friday morning at 9:30, at Town Hall, the Edgefield Community Development Association served early morning traditional treats to a host of retail and service organizations in preparation for the big Christmas events to come.
The Town of Edgefield is planning to host a number of attractions between November 14 and December 21 promising a memorable Christmas Season of shopping and family events. Watch for the posters scattered around town which hold a schedule of events.
Some of those events, starting with Open House on the 14th, will be: NWTF Turkey Feast 2013 on November 21; Christmas Tree lighting on the 29th; Tour of Churches, December 1 and Old Fashioned Christmas Market and Movie on the Square on December 7.  On the 7th OEDGS is planning a shootout with chicken stew for sale, and a special "spirit tour" of the local cemetery.
Just keep checking in with this website and the print edition of The Advertiser to learn more.